Senior Designer, Equipment
Rohnert Park, California, United States
Apply Now
Job ID 1702568
Reference Code:
1702568
Newell Brands is a global marketer of consumer and commercial products that touch the lives of people where they live, learn, work and play. We are committed to building consumer and commercial brands that matter while leveraging the benefits of being one company: shared expertise, operating efficiencies, and a culture of innovation.

This is a job summary which includes essential job duties of this position. More specific information regarding duties may be provided upon request.

The Senior Designer, Equipment works closely with the Brand Manager, Equipment and the Equipment Design and Development Team to lead the equipment design effort for Newell Brands Technical Apparel products such as Tents, Sleeping Bags, Backpacks, Luggage and accessories. Newell Brands Technical Apparel (NBTA) is a division of Newell Brands (NYSE: NWL), a globally-recognized designer, developer, marketer and retailer of high-performance technical apparel and equipment with a portfolio of brands that includes Marmot® and ExOfficio®.

The Senior Designer, Equipment assists in initiating and interpreting new product concepts to meet the needs of NBTA customers and professional athletes. This position creates unique innovation that maintains each brand's technical leadership in the Outdoor Market. The incumbent manages design projects from initial design direction to bulk production to ensure project goals are achieved and deadlines are reached. The Senior Designer, Equipment assumes a lead role in the category for communicating and presenting creative strategies, product concepts and consumer insights to internal and external audiences. This position mentors members of the design team and works closely with the Equipment Brand Manager throughout creative process.
Qualifications
Essential Duties:
Collaborates with Brand Manager, Equipment to create new products and innovations on time and within budget. Incorporates the Product Direction and Product Briefs provided by the Brand Manager, Equipment in conjunction with feedback from concept meetings to determine solutions to functional and design challenges. Creates design concepts that reflect the goals of the Equipment Category and apply solutions to functional and design challenges. Works within cost and manufacturing limitations.

Responsibilities include, but are not limited to:

Leading a team

Partnering with Director, Design on creative direction

Execution of creation

Driving execution across multiple categories & Brands

Hands on design

Contributes to the development of sales strategies and stories for product based on innovation and sellable features that will enhance marketing of the product.

Drives innovation and technology into commercially viable product within the parameters of the Brand strategy.

Accurately determines, anticipates and validates future trends, technologies and cultural drivers to expand and grow the assortment across all categories.

Accountable for driving the business by building profitable, market right, consumer product that is in line with the department and company financial targets.

Experience working with factories and Product Development teams, developing fabric, technology and construction innovation.

Ensures product design execution is within target costs and margin requirements.

Works with sales, marketing, business development, key accounts and athletes to identify opportunities to meet or build consumer demand for NBTA products, to improve market share through new fabric, construction and product concepts, and to develop seasonal strategies.

Researches the worldwide marketplace and interpret consumer and market needs as they relate to the respective product category. This includes researching construction, materials, fabric, color and design concepts and collecting feedback from customers and athletes. Attends selected trade shows for market research and attend sales meetings to gain a thorough understanding of customer and product requirements.

Applies knowledge of product construction, design and appropriate software, in addition to tactical problem solving skills, to prioritize and produce a variety of backpack, Tent, Sleeping Bag and equipment specifications.

Communicates complex details and specifications to a variety of contractors where English is limited.

Works on multiple tasks concurrently, requiring the ability to manage multiple conflicting priorities and details, while adhering to timelines, to keep the operations on schedule.

Actively manages professional development.
Key Qualifications:
University or four-year college degree in Industrial Design or equivalent experience

A minimum of 8 years of professional experience in various phases of outdoor equipment design, construction and manufacturing

Extensive knowledge of backpack, sleeping bag, tent and other equipment construction, material construction, product testing and properties, costing, fabrics and trims

Thorough understanding of the design, development and merchandising process from inception through production

Strong knowledge of technical and design needs to build exceptional product focused on technical fabric and construction innovation and margin

Experience working with factories and Product Development teams, developing fabric and other materials technology and construction innovation

Extensive industry and consumer trend knowledge in the outdoor industry

Practical knowledge of other functions such as sourcing, production, sales, marketing and merchandising preferred

Comfortable working with department executives, suppliers, engineers, and manufacturers to identify and develop new product concepts, innovations and construction technologies

Proactive and passionate approach to driving fresh, innovative thinking from product concept to final execution

Able to manage and lead change

Able to mentor and guide/collaborate among cross-functional teams to achieve business goals

Presentation/speaking skills – able to present and sell to all levels of the organization as well as the customer, communicating a clear and inspiring vision

Strong oral and written communication skills

Able to precisely communicate and negotiate time frames verbally and in writing in a multi-cultural environment

Demonstrated collaboration, interpersonal influence, and teamwork skills (maintains effective communication and working relationships)

Results orientation while exhibiting great energy and resourcefulness

Self-starter who brings passion, enthusiasm and focus to each project

Strong project planning, organizational and time management skills and a high level of initiative

Strong analytical skills and data-driven thinking

Attention to detail

Team player - puts aside personal goals and works well with others, doing what needs to be done to strive for a common goal

Able to manage to deadlines, be flexible with change, drive to timely resolution

High degree of proficiency in Illustrator, Photoshop, InDesign using a Mac computer required

Proficiency in all Microsoft programs on a Mac; intermediate Microsoft Excel skills required

Sense of humor and a passion for what you do

Able to travel up to 20% of the year, including international travel to factories and tradeshows
Newell Brands Technical Apparel (NBTA), a division of Newell Brands (NYSE: NWL), is a globally-recognized designer, developer, marketer and retailer of high-performance technical apparel and equipment with a portfolio of brands that includes Marmot® and ExOfficio®.
Our core values of People - Product - Planet represent our commitment to innovation, quality, authenticity, continuous improvement, community and sustainability. We offer a competitive total compensation, health and wellness package and a down-to-earth, collaborative and engaging work environment.
Embark on your next adventure at Newell Brands Technical Apparel!
Newell Brands (NYSE: NWL) is a leading global consumer goods company with a strong portfolio of well-known brands, including Paper Mate, Sharpie, Dymo, EXPO, Parker, Elmers, Coleman, Jostens, Marmot, Rawlings, Oster, Sunbeam, FoodSaver, Mr. Coffee, Rubbermaid Commercial Products, Graco, Baby Jogger, NUK, Calphalon, Rubbermaid, Contigo, First Alert, Waddington and Yankee Candle. For hundreds of millions of consumers, Newell Brands makes life better every day, where they live, learn, work and play. Newell Brands and its subsidiaries are Equal Opportunity Employers and comply with applicable employment laws. EOE/M/F/Vet/Disabled are encouraged to apply.
Apply Now
Let us connect you
With just one click and a connection to LinkedIn, we can connect you to jobs that best match your work experience.
Start Matching
Use the hashtag #LifeAtNWL to explore the Newell Brands Story: Our Growth. Our Brands. Our People.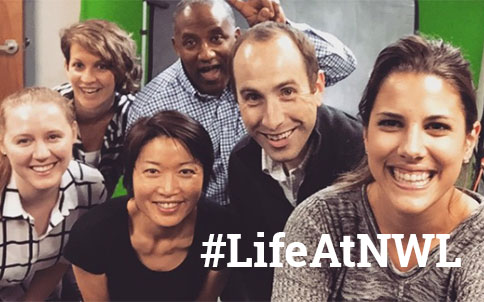 Watch Newell Brands in action
Our brands work together to make our consumers' lives easier and safer. Our employees work together to do the same thing. Take a look at how we live, learn, and work at Newell.
For hundreds of millions of consumers, Newell Brands makes life better every day, where they live, learn, work and play. Our employees work together to do the same thing.
Join our Talent Network
Joining our Talent Network will enhance your job search and application process. Whether you choose to apply or just leave your information, we look forward to staying connected with you.
Join Now
If you are an applicant with a disability who is unable to use our online tools to apply for positions, send an email to Accommodations@newellco.com. Please indicate the Job ID and the specifics of the assistance needed. This option is reserved for individuals with disabilities who need an alternative method of applying for open positions.