Careers as Diverse as Our Brands
To get a better understanding of what working at Newell Brands is really like, meet the people who have made a career at Newell Brands the most rewarding chapter in their story.
Sarah Dye

Jennifer Watts

Keith Loranger

Heather Oliver

Lisa Kirkland
Brand Activation Manager
Started in January 2011
I have a degree in Packaging Engineering from Michigan State (go Spartans!), and that's the field I started my career in at Kraft. After a few years, I realized that I wanted to be on the marketing side, but didn't think it was an option for me. But by delivering on my objectives and building my leadership competencies and internal network, I was able to move into a packaging role at Newell Brands, then into Channel Marketing, followed by Customer Marketing and finally into Brand Marketing, where I am now. I'm so thankful for the flexibility to work in different departments on both consumer and professional brands. And since I'm from Michigan and worked in New Jersey for 3 years, I was thrilled to be moving to somewhere warm like Atlanta!
Vice President of Sales
Started in April 2015
I believe that the life skills of working with team dynamics, tenacity and strong leadership came from my time on the soccer and lacrosse teams at Babson College, where I graduated with a Bachelor's in Finance and an MBA in Marketing. I started out my career at Kraft Foods, where I worked for 22 years in various roles before coming to Newell Rubbermaid. I chose Newell because of the high-energy, passionate people and the amazing brands the company has. I feel that there is potential to grow and develop these brands with our consumers and customers. I was also drawn to Newell because of the company's commitment to consumers and identifying and addressing trends.
Keith Loranger

Heather Oliver
Senior Vice President of Sales
Started in October 2014
I am a graduate of UNH with a degree in Business Management – I also played college basketball there. And I joined the Newell Rubbermaid Sales team after 27 years of working at Kraft Foods in various functions – both domestically and globally. I found that Newell was the right fit for me because I appreciate the leadership's commitment to growth and the iconic family of stable brands.
Sr. Category Strategy Manager
Started in January 2014
During my time at Kraft Foods, Mondelez and Pfizer, I had the opportunity to work in both sales and category management. I really enjoyed supporting the growth of well-known brands such as Oreo, Chips Ahoy, Planters, Ritz Lunchables and Jell-O (just to name a few!). Currently, my role at Newell is all about driving growth in the writing segment. I work cross-functionally with counterparts in both development and delivery to identify opportunities for growing our retail brands. I love that my role allows me to connect with so many different colleagues and functions throughout the organization.
Sr. Category Strategy Manager
Started in January 2014
I started my career as a process engineer at Procter & Gamble, leading production process improvements in manufacturing facilities. Working with Brand Marketing on new product launches allowed me to see manufacturing as a small piece of the big puzzle to building a brand. Their focus on meeting consumer needs and ensuring that all touch points led to a positive experience was both intriguing and inspiring. So I returned to school and obtained my MBA with a concentration in marketing. Since then, I've worked at major CPG companies in various Brand and Trade Marketing roles – using customer insights to develop new products and launch plans that drive growth. I truly enjoy the team dynamic that is involved in building a brand.
I chose Newell Rubbermaid because of the company's commitment to building superior brands via a culture that drives growth and embraces change. I admire its dedication to employees through development programs and work/life benefits, and also their commitment to giving back to the communities we work in.
Where will your Newell Brands story take you?
From the Paper Mate pencil you wrote with in elementary school to the Calphalon cookware you registered for on your wedding day, and many stops along the way, you've interacted with our brands. Newell Brands makes products that touch people on a personal level daily. And we pride ourselves on having brands that transition with you as you grow.
Just as customers' needs evolve throughout their lives – trading in their Mr. Sketch Marker for a Sharpie and their Graco bottle warmer for a Contigo water bottle – so do our employees' careers. As a leader in Consumer Packaged Goods (CPG), we are always looking for the best talent in the industry. To coincide with the wide variety of brands in our portfolio, we seek a diverse group of employees who bring a unique perspective and background. When you join us, you aren't starting a new job – you're beginning a new career.
Use the hashtag #LifeAtNWL to explore the Newell Brands Story: Our Growth. Our Brands. Our People.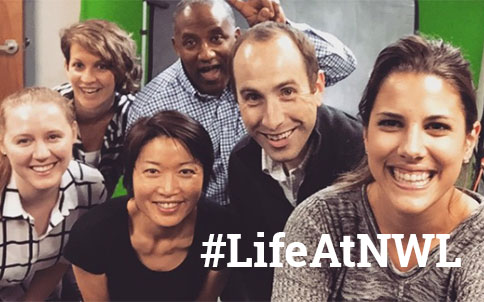 Watch Newell Brands in action
Our brands work together to make our consumers' lives easier and safer. Our employees work together to do the same thing. Take a look at how we live, learn, and work at Newell.
For hundreds of millions of consumers, Newell Brands makes life better every day, where they live, learn, work and play. Our employees work together to do the same thing.
If you are an applicant with a disability who is unable to use our online tools to apply for positions, send an email to Accommodations@newellco.com. Please indicate the Job ID and the specifics of the assistance needed. This option is reserved for individuals with disabilities who need an alternative method of applying for open positions