Careers as Diverse as Our Brands
To get a better understanding of what working at Newell Brands is really like, meet the people who have made a career at Newell Brands the most rewarding chapter in their story.
Fiona Johnson

Kacie McKee

Maria Carrasquillo

Michael Calistri
Fiona Johnson

Kacie McKee
Sr. Graphic Designer
After being employed in the gaming industry for several years, I looked to make a career change in hopes of expanding my knowledge of corporate design. I was hired by Newell Brands for a three-month contract position to cover an employee out on leave. You could say things have gone well – I'm now going on almost three years here!
Having the freedom to creatively display my design skills has been an important part of why I love working here. Our team has an amazing opportunity to help capture the story of Newell Brands, and that's something that makes every day more exciting than the last. Currently, I'm working on the branding of Newell Now, our company's mobile app. We're designing the app's logo, a launch video for all our new users and some cool designs to be featured as well.
Our culture is different at Newell Brands. We're all given the chance to succeed and do some amazing things. The opportunity to present ideas is limitless, which makes working here extremely rewarding.
Director, Ecommerce Strategy
I have been with Newell for almost 7 years. I started in Baby before Mike Polk was onboard and my role was similar to what brand/trade activation is today. When Jeremy Liebowitz started in 2013 I was the first Ecommerce employee and helped drive Ecommerce for the Baby business in the US for about a year. I moved from that role into more of a Program Management role helping establish internal relationships for Ecommerce, ways of working, and helping map our future. That in turn led to my current role in strategy where my entire focus is not on delivering the month and the quarter (although my team obviously cares and provides help when needed), but on 3 years out. What trends should we be aware of? What are the newest shopping behaviors? What countries and categories matter most when we think about international expansion?
When I first joined the Ecommerce team 3 years ago, it was a huge leap of faith. I came from the Baby business in an established role on the marketing side, so it was a daunting but rewarding experience. The team went from me, to 15, to well over 500 employees this year, and we're continuing to grow! What I think is most special about the eCommerce team is the entrepreneurial spirit. We're hiring really, really smart, hungry individuals that are ready to push the envelope.
I would describe every day at Newell as tough, but rewarding. You can really drive your future and business at Newell and to clearly see results. I think the one thing that is truly unique about Newell is the people! I have stayed because of how smart, dedicated and fun they all are. It really does feel like a family and one that pushes each other to succeed and holds each other accountable.
Maria Carrasquillo

Michael Calistri
Director, Brand Activation
I started my career in Puerto Rico as a sales representative for both Playtex and Bayer. Even though I enjoyed sales, something in my life was missing. In 1999, I made the move to Florida (The Sunshine State!!) and landed in beautiful Miami to work for Saatchi & Saatchi in their accounts division. At that moment, I discovered my real passion: consumer marketing.
For the past 11 years, I've had the amazing opportunity to work for this company. Starting as a Jarden employee and then transitioning to a member of the Newell Brands family, I've worked in different marketing roles including Communications, Social/Digital Marketing, eCommerce and Category Management. The team energy, the brands, the vison and the mission inspire me every single day. Today, as Director of Brand Activation & Trade Marketing, I have the responsibility to drive growth for the Appliances & Cookware division, while mentoring the LATAM (Latin America) team. We embrace a fast-paced culture that keeps bringing world class experiences and products to our consumers!
Financial Analyst
I've been at Newell Brands Since February of this year after just receiving my Finance degree from Temple University in Philadelphia. My senior year I met Newell's Director of Real Estate at an event in Philly and we ended up speaking for most of the event. He explained how Newell's business growth meant a constant supply of new markets and pieces of real estate to work with. I knew I would love any job with so much inherent variety and fast-paced growth. The first thing I did after graduation was take an interview here in Hoboken, and I haven't looked back since.
Newell Brands is an incredible place to work. The office location and environment brings an amazing start and finish to each work day. I also love our constantly growing portfolio of consumer goods brands (plus, we get an employee discount!).
Each day is both demanding and fulfilling. The simplest way for me to put it is that I have not had a single boring day of work since I started, and I don't anticipate that changing!
Where will your Newell Brands story take you?
From the Paper Mate pencil you wrote with in elementary school to the Calphalon cookware you registered for on your wedding day, and many stops along the way, you've interacted with our brands. Newell Brands makes products that touch people on a personal level daily. And we pride ourselves on having brands that transition with you as you grow.
Just as customers' needs evolve throughout their lives – trading in their Mr. Sketch Marker for a Sharpie and their Graco bottle warmer for a Contigo water bottle – so do our employees' careers. As a leader in Consumer Packaged Goods (CPG), we are always looking for the best talent in the industry. To coincide with the wide variety of brands in our portfolio, we seek a diverse group of employees who bring a unique perspective and background. When you join us, you aren't starting a new job – you're beginning a new career.
Use the hashtag #LifeAtNWL to explore the Newell Brands Story: Our Growth. Our Brands. Our People.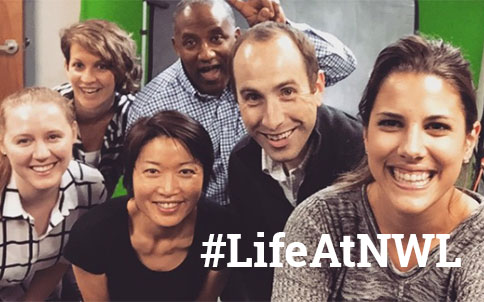 Watch Newell Brands in action
Our brands work together to make our consumers' lives easier and safer. Our employees work together to do the same thing. Take a look at how we live, learn, and work at Newell.
For hundreds of millions of consumers, Newell Brands makes life better every day, where they live, learn, work and play. Our employees work together to do the same thing.
Join our Talent Network
Joining our Talent Network will enhance your job search and application process. Whether you choose to apply or just leave your information, we look forward to staying connected with you.
Join Now
If you are an applicant with a disability who is unable to use our online tools to apply for positions, send an email to Accommodations@newellco.com. Please indicate the Job ID and the specifics of the assistance needed. This option is reserved for individuals with disabilities who need an alternative method of applying for open positions.